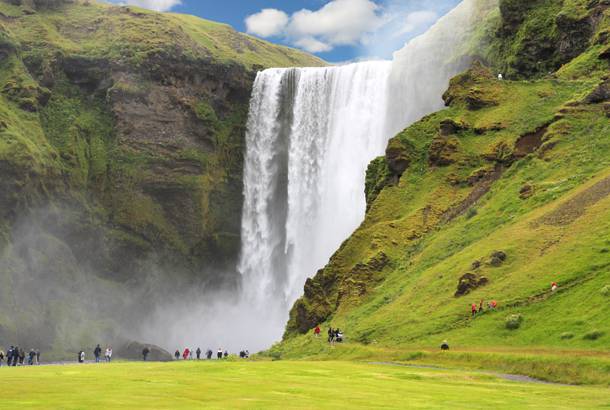 When is the best time to visit Iceland?
Thanks to the Gulf Stream, Iceland enjoys a milder climate than expected though winters are still cold and summers warm rather than hot. If you're in search of the Northern Lights, September to March are the best months to visit Iceland but If you are interested in exploring the landscape, the best time to visit is between June and August.
Seasons and Weather
There is a common saying in Iceland: 'if you don't like the weather, just wait five minutes'. It's invariably true as weather conditions can change dramatically within a day. However, Iceland does experience four distinct seasons and each brings with it a reason to visit.
What's spring like in Iceland?
Iceland awakens from its winter slumber in April, which marks the arrival of spring. After the ice and snow thaws in March, temperatures continue to rise steadily so the days grow warmer and better suited for outdoor exploration. Vegetation grows greener and migrating whales and dolphins begin to frequent the waters surrounding Iceland in search of food. This makes April and May good months for whale watching.
The spring equinox is rumoured to bring increased solar activity so it's still possible to catch a glimpse of the famed Northern Lights until early April though the increasing hours of daylight does mean that you'll be out late during your search.
What's summer like in Iceland?
The summer months of June through to August are considered the best time to visit Iceland with mild temperatures and long days of sunlight. This culminates in the summer solstice and the phenomenon known as the 'midnight sun'. Towards the end of June, the sun barely dips behind the horizon, bathing Iceland in an eerie twilight that the locals take full advantage of with festivals and parties. You may want to bring an eye mask as nights without darkness do take some getting used to.
Summer is ideal for self-drive holidays and any trips that involve plenty of sightseeing and outdoor pursuits. This makes it the most popular time of year to visit, which means higher prices and larger crowds at the best-known attractions, especially those in the Golden Circle.
What's autumn like in Iceland?
Autumn (September – early November) is a fairly brief season in Iceland but also one of the most picturesque as the national parks turn brilliant shades of red, orange and yellow and vivid green moss covers ancient lava formations. Temperatures do become cooler and the sun starts setting once again though there's still plenty of daylight to enable the same range of activities you'd enjoy during the summer months.
What's different to the summer months is the lack of crowds and the lower prices for hotel rooms and flights. Plus, these months herald the beginning of the Northern Lights season and with warmer temperatures than winter, the lakes and rivers remain ice-free and reflect the spectacular display of colour on the water's surface. This makes it another great time of year to visit, especially for anyone with an interest in photography.
What's winter like in Iceland?
The colder winter months of November through to February brings snow to the northern regions of Iceland but the country receives far less snowfall than many people presume. The countryside is often basked in a blanket of crisp white snow, making it the best time to visit if you want to enjoy any snow-based activities such as snowmobiling and dog sledding.
It's a magical time to visit Iceland with longer nights that mean more opportunities to spot the Aurora Borealis. However, the snow can mean that some roads are impassable so if travelling at this time be prepared for potential changes of itinerary and delays but don't forget to enjoy it – the scenery is amazing and it's just all part of being in Iceland. If snow is what you're visiting for then you can plan your visit using the handy Snow Forecast Map.
Climate in Reykjavik
| | Jan | Feb | Mar | Apr | May | Jun | Jul | Aug | Sep | Oct | Nov | Dec |
| --- | --- | --- | --- | --- | --- | --- | --- | --- | --- | --- | --- | --- |
| Temp Min °C | -2 | -2 | -1 | 1 | 4 | 7 | 9 | 8 | 6 | 3 | 0 | -2 |
| Temp Max °C | 2 | 3 | 4 | 6 | 10 | 12 | 14 | 14 | 11 | 7 | 4 | 2 |
| Rainfall (mm) | 42 | 37 | 32 | 19 | 32 | 16 | 19 | 22 | 31 | 17 | 23 | 31 |
Climate in Akureyri
| | Jan | Feb | Mar | Apr | May | Jun | Jul | Aug | Sep | Oct | Nov | Dec |
| --- | --- | --- | --- | --- | --- | --- | --- | --- | --- | --- | --- | --- |
| Temp Min °C | -5 | -4 | -4 | -1 | 3 | 6 | 8 | 7 | 4 | 1 | -3 | -5 |
| Temp Max °C | 1 | 2 | 3 | 5 | 10 | 13 | 15 | 14 | 10 | 6 | 3 | 1.5 |
| Rainfall (mm) | 11 | 9 | 10 | 6 | 4 | 6 | 7 | 7 | 8 | 11 | 10 | 11 |
Upcoming events
To help plan your visit to Iceland, here's an overview of the next year's festivals and events.
2021:
January TBC -
Dark Music Days (Reykjavik)
January 28th - February 7th -
Reykjavik International Games (Reykjavik)
June 25-27th -
Secret Solstice Festival (Reykjavik)
August 1st-8th -
Icelandic Horse Festival (Landsmot)
There's also a number of
national holidays
in Iceland and on these dates many businesses and some tourist sites will close for the day so plan your visit accordingly.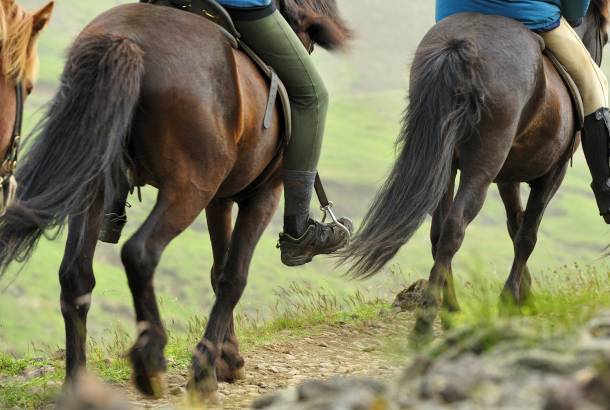 Festivals and Events
As if the incredible Aurora Borealis wasn't enough of a reason to visit Iceland, a number of exciting festivals and events are held throughout the year.
When are the Reykjavik International Games?
In late January Reykjavik hosts the International Games with athletes competing in games as varied as weightlifting, archery, table tennis and karate. The games are held in world-class facilities with the alpine skiing events taking place in ski resorts just 40 minutes outside of the capital.
When is Dark Music Days?
Bringing together the best of Iceland's composers in the darkest days of winter, the Dark Music Days festivals is held in Reykjavik towards the end of January with concerts held in the Harpa Concert Hall, an impressive steelwork structure fashioned with glass panels, and Reykjavik Cathedral. With solo and chamber concerts as well as percussion and electrical, it's a great time to visit for music lovers.
When is the Secret Solstice Festival?
This multi-genre event takes place in Reykjavik during the month of June and showcases both established artists as well as exciting up-and-coming talent in the midnight sun. The unique party atmosphere takes full advantage of the Nordic myths of summer solstice and although only in its third year has received critical acclaim.
When is the Icelandic Horse Festival?
Showcasing the best of Iceland's horses and riders, the Icelandic Horse Festival is the largest outdoor sporting event held on the island with international participants joining in the racing and dressage categories. The festival starts sometime in June and lasts five days.