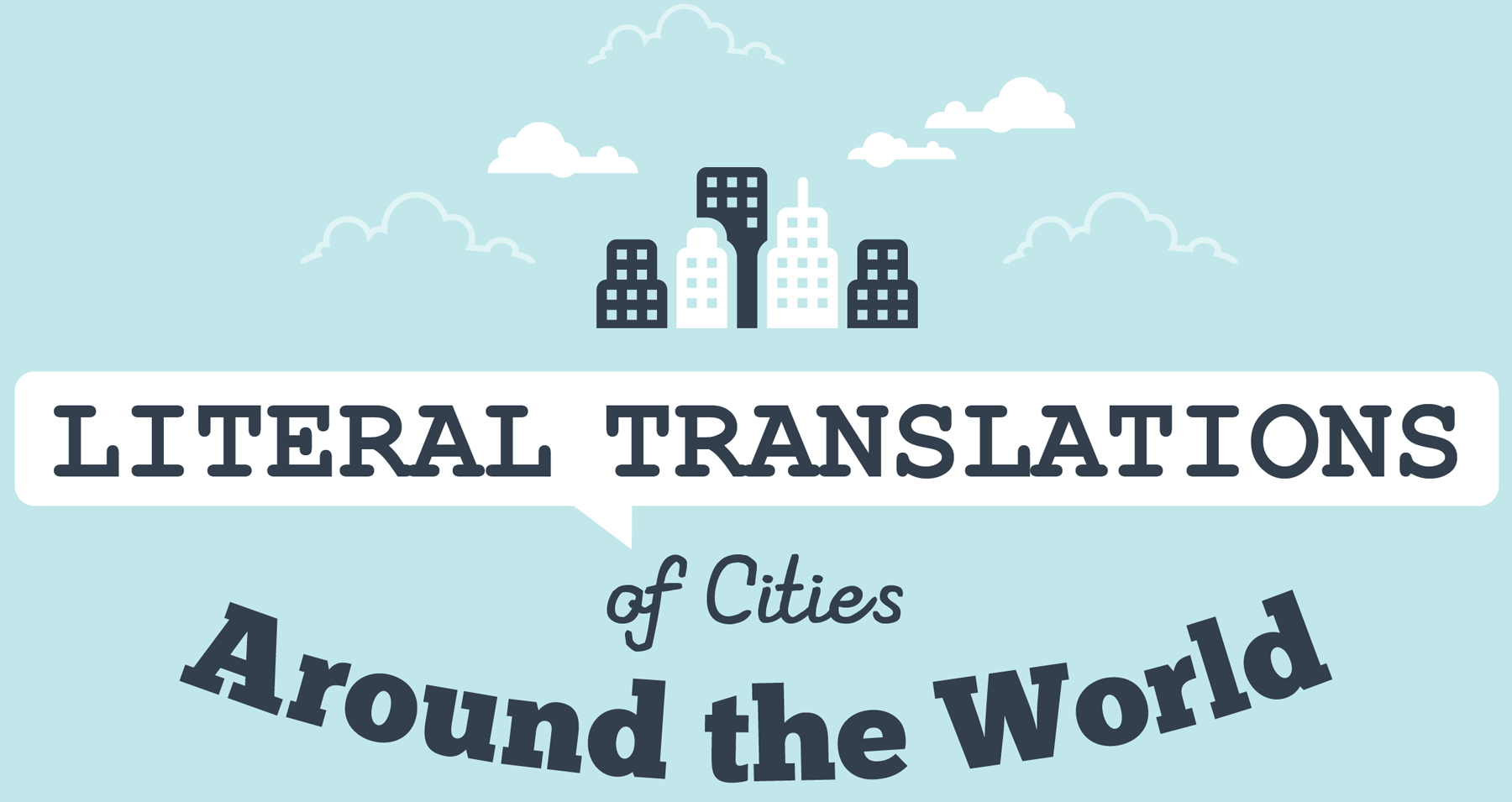 We can all name a number of major cities in countries throughout the world, such as Vienna, Rio de Janeiro and Abu Dhabi, but did you know that many of these places carry hidden meanings and historic references?
Although there is no clear number, there are around 7,106 living languages currently spoken around the world. The way we communicate is truly fascinating and the names we give to objects, other people and places equally so. That's why we decided to take a look at a major city in 191 countries around the world to find out their literal translation.
Hover over the map below to see literal translations of cities around the world.
Scroll within the magnifying box to zoom in and out.
Pinch and zoom to explore.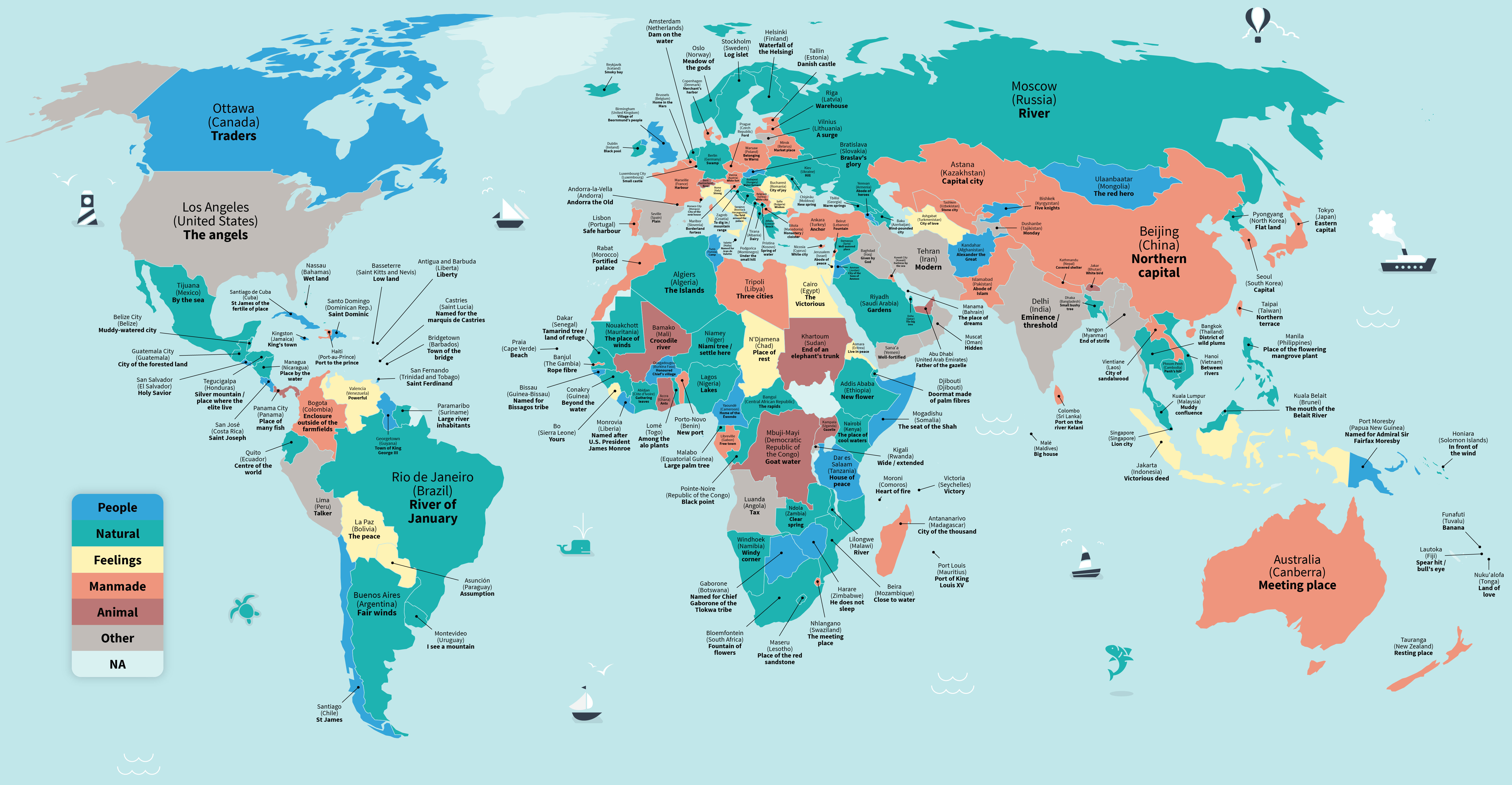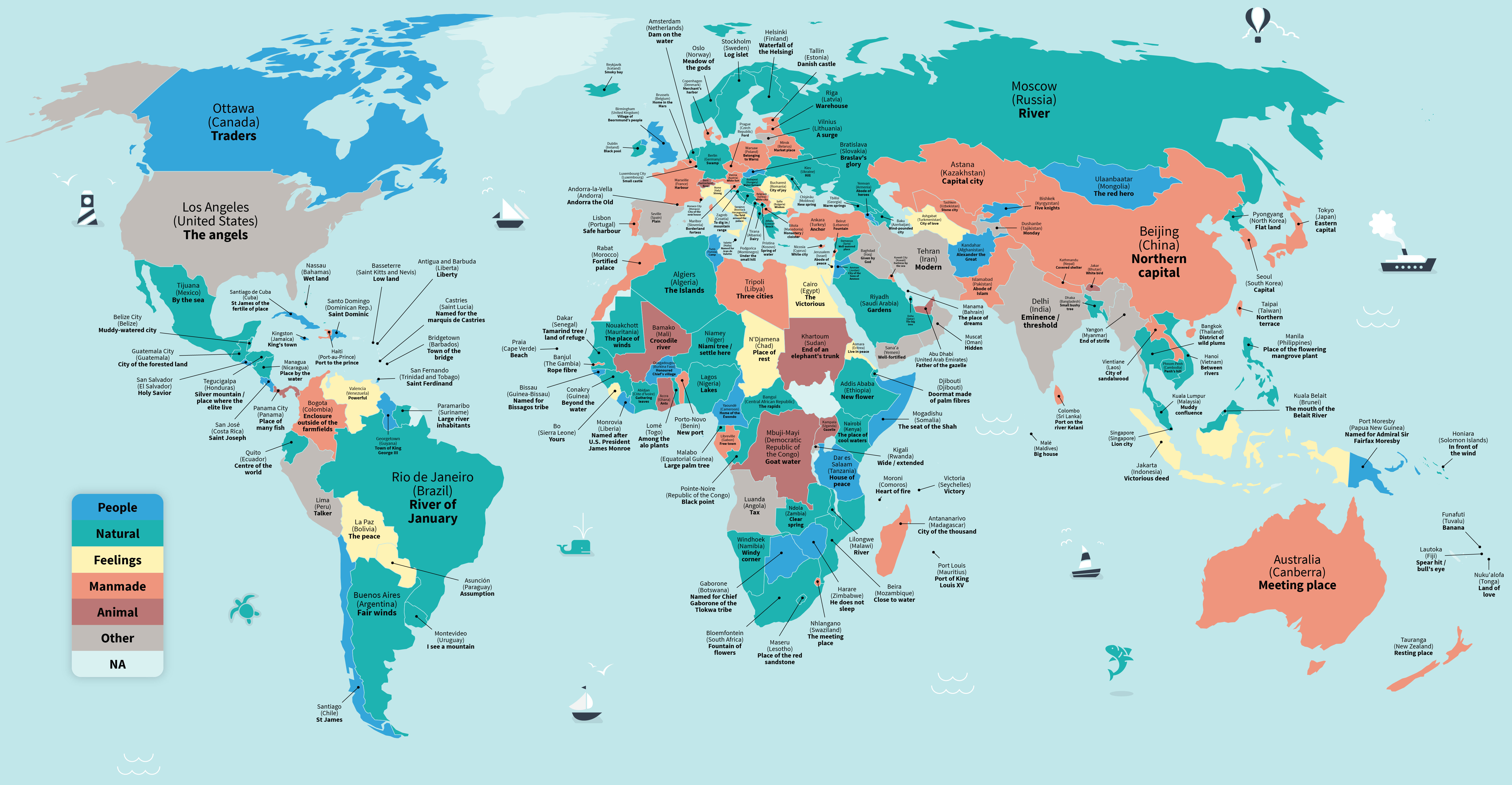 Country
City Name
Literal Translation
Kandahar
Afghanistan
Alexander the Great
Algiers
Algeria
The Islands
Andorra-la-Vella
Andorra
Andorra the Old
Liberta
Antigua and Barbuda
Liberty
Buenos Aires
Argentina
Fair winds
Yerevan
Armenia
Abode of heroes
Canberra
Australia
Meeting place
Baku
Azerbaijan
Wind-pounded city
Manama
Bahrain
The place of dreams
Dhaka
Bangladesh
Small bushy tree
Bridgetown
Barbados
Town of the bridge
Brussels
Belgium
Home in the Mars
Belize City
Belize
Muddy-watered city
Sarajevo
Bosnia and Herzegovina
The field around the palace
Gaborone
Botswana
Named for Chief Gaborone of the Tlokwa tribe
Rio de Janeiro
Brazil
River of January
Ouagadougou
Burkina Faso
Honoured Chief's village
Phnom Penh
Cambodia
Penh's hill
Yaoundé
Cameroon
Home of the Éwondo
Bangui
Central African Republic
The rapids
N'Djamena
Chad
Place of rest
Beijing
China
Northern capital
Bogota
Colombia
Enclosure outside of the farmfields
Moroni
Comoros
Heart of fire
Mbuji-Mayi
Congo, Democratic Republic of the
Goat water
Pointe-Noire
Congo, Republic of the
Black point
San José
Costa Rica
Saint Joseph
Abidjan
Côte d'Ivoire
Gathering leaves
Zagreb
Croatia
To dig in / mountain range
Santiago de Cuba
Cuba
St James of the fertile of place
Copenhagen
Denmark
Merchant's harbor
Djibouti
Djibouti
Doormat made of palm fibres
Santo Domingo
Dominican Republic
Saint Dominic
Quito
Ecuador
Centre of the world
San Salvador
El Salvador
Holy Savior
Malabo
Equatorial Guinea
Large palm tree
Asmara
Eritrea
Live in peace
Tallin
Estonia
Danish castle
Addis Ababa
Ethiopia
New flower
Lautoka
Fiji
Spear hit / bull's eye
Helsinki
Finland
Waterfall of the Helsingi
Banjul
Gambia, The
Rope fibre
Tbilisi
Georgia
Warm springs
St. George's
Grenada
Place of St George
Guatemala City
Guatemala
City of the forested land
Conakry
Guinea
Beyond the water
Bissau
Guinea-Bissau
Named for Bissagos tribe
Georgetown
Guyana
Town of King George III
Port-au-Prince
Haiti
Port to the prince
Tegucigalpa
Honduras
Silver mountain / place where the elite live
Budapest
Hungary
Water furnace
Reykjavík
Iceland
Smoky bay
Delhi
India
Eminence / threshold
Jakarta
Indonesia
Victorious deed
Jerusalem
Israel
Abode of peace
Kingston
Jamaica
King's town
Tokyo
Japan
Eastern capital
Amman
Jordan
City of the Sons of Ammon
Astana
Kazakhstan
Capital city
Nairobi
Kenya
The place of cool waters
Pyongyang
Korea, North
Flat land
Pristina
Kosovo
Spring of water
Kuwait City
Kuwait
Fortress by the sea
Kyrgyzstan
Bishkek
Five knights
Vientiane
Laos
City of sandalwood
Vientiane
Laos
City of sandalwood
Maseru
Lesotho
Place of the red sandstone
Monrovia
Liberia
Named after U.S. President James Monroe
Vaduz
Liechtenstein
Water / valley
Luxembourg City
Luxembourg
Small castle
Bitola
Macedonia, Republic of
Monastery / cloister
Antananarivo
Madagascar
City of the thousand
Kuala Lumpur
Malaysia
Muddy confluence
Bamako
Mali
Crocodile river
Valette
Malta
Named for Jean de Valette
Majuro
Marshall Islands
Atoll
Nouakchott
Mauritania
The place of winds
Port Louis
Mauritius
Port of King Louis XV
Chişinău
Moldova
New spring
Monaco City
Monaco
City of the new house
Ulaanbaatar
Mongolia
The red hero
Podgorica
Montenegro
Under the small hill
Morocco
Rabat
Fortified palace
Beira
Mozambique
Close to water
Yangon
Myanmar
End of strife
Windhoek
Namibia
Windy corner
Kathmandu
Nepal
Covered shelter
Amsterdam
Netherlands
Dam on the water
Tauranga
New Zealand
Resting place
Managua
Nicaragua
Place by the water
Niamey
Niger
Niami tree / settle here
Oslo
Norway
Meadow of the gods
Islamabad
Pakistan
Abode of Islam
Ngerulmud
Palau
Place of fermented fish
Panama City
Panama
Place of many fish
Port Moresby
Papua New Guinea
Named for Admiral Sir Fairfax Moresby
Asunción
Paraguay
Assumption
Manila
Philippines
Place of the flowering mangrove plant
Manila
Philippines
Place of the flowering mangrove plant
Warsaw
Poland
Belonging to Warsz
Lisbon
Portugal
Safe harbour
Bucharest
Romania
City of joy
Kigali
Rwanda
Wide / extended
Basseterre
Saint Kitts and Nevis
Low land
Castries
Saint Lucia
Named for the marquis de Castries
Saint Vincent and the Grenadines
Kingstown
King's town
San Marino
San Marino
Saint Marinus
São Tomé
São Tomé and Príncipe
Saint Thomas
Riyadh
Saudi Arabia
Gardens
Dakar
Senegal
Tamarind tree / land of refuge
Victoria
Seychelles
Victory
Singapore
Singapore
Lion city
Bratislava
Slovakia
Braslav's glory
Maribor
Slovenia
Borderland fortess
Honiara
Solomon Islands
In front of the wind
Somalia
Mogadishu
The seat of the Shah
Bloemfontein
South Africa
Fountain of flowers
Colombo
Sri Lanka
Port on the river Kelani
Khartoum
Sudan
End of an elephant's trunk
Paramaribo
Suriname
Large river inhabitants
Nhlangano
Swaziland
The meeting place
Damascus
Syria
Well-watered place
Taipai
Taiwan
Northern terrace
Dar es Salaam
Tanzania
House of peace
Bangkok
Thailand
District of wild plums
Lomé
Togo
Among the alo plants
Nuku'alofa
Tonga
Land of love
San Fernando
Trinidad and Tobago
Saint Ferdinand
Ashgabat
Turkmenistan
City of love
Abu Dhabi
United Arab Emirates
Father of the gazelle
Birmingham
United Kingdom
Village of Beornmund's people
Los Angeles
United States
The angels
Montevideo
Uruguay
I see a mountain
Tashken
Uzbekistan
Stone city
Port-Vila
Vanuatu
Port town
Vatican City
Vatican City
Soothsayer city
Venezuela
Valencia
Powerful
Hanoi
Vietnam
Between rivers
Sana'a
Yemen
Well-fortified
Harare
Zimbabwe
He does not sleep